RULES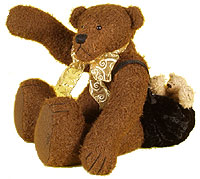 1. Your entry (teddy bear/critter) can be any size.
2. Your entry can be made from any type of material.
3. Your entry must represent you country either as a competitor i.e. a teddy bear swimming (any other type of sport) or as a supporter representing your country.
4. A full frontal photograph sent in JPEG format under size 500 pixels x 500 pixels must be sent to this email address to service@twtba.org.tw
5. Your entry must include the type of material used, colour of materials, colour of eyes and finished size of bear, type of nose. Please state if you have added any other features- i.e. needle felting, air brushing.
6. Your name and country must be included with the photograph sent in.
7. You photographs could be used for publication in the Taiwan teddy bear magazine "Bear Focus" please confirm that you give permission.
8. IMPORTANT: Each country participating in this competition can have 1~3 teddy bears artist representing their country. Ms Lynette Kennedy will be entering her challenge, although being part of the 2008 TBOC, she will NOT have any control over the voting.
9. Judging will be done by…
Ms. Marianne SCHMID - "Swiss Teddy Festival" in Zurich organizer.
M.s Sandra Wigzell - Editor of Australia Bear Creations.
Ms. Ruth Voisard, - Well known Swiss bear artist.
Ms. Mari and Akemi Koto - Ttwo well known Japanese teddy bear artists.
10. ENTRY FEE/DONATION - US$5.00 or more. All funds raised will be shared between the Asian Moon Bear Rescue and the black bear site.
11. Awards: 1st place GOLD, 2nd place SILVER, 3rd place BRONZE, 3 runner ups.
SCHEDULE

JUN. 30
All entries must have reached TWTBA by this date.
JUL. 1~6
All entries will be added to TWTBA website.…
JUL. 8~AUG. 7
PUBLIC voting starts via the TWTBA website …
AUG. 7~12
All votes are counted and 10 highest scoring votes are sent to the judges for final decision. Pictures are sent to the judges.
AUG. 13~20
Judges make their decisions.
AUG.25
WINNERS ARE ANNOUNCED via email on the website
Official entry fee/donation is US$5.00. Should you wish to increase this please feel free to do so.
PRIZES:
Gold- 9ct gold teddy bear charm, ribbon and certificate
Silver- sterling silver teddy bear charm, ribbon and certificate
Bronze-bronze teddy bear charm,ribbon and certificate
1st runner up - ribbon and certificate
2nd runner up - ribbon and certificate
3rd runner up- ribbon and certificate