Please Move your mouse over image to see the description

Hi, My name is Jenny Lee of "jennylovesbenny bears". Jennylovesbenny was born in the majestic city of London in 2003 but we've now come home to live in Melbourne, Victoria (the garden state of Australia).

Since 2005 I¡¦ve been designing and making bears full time. My husband and I worked and lived in the UK for 4 years before moving back to Australia in 2005.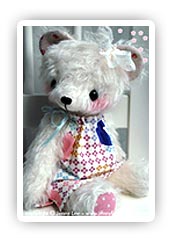 When we were there, I started making bears as a hobby and then I started selling them along with my patterns. I got addicted to the craft so when we decided to move back here, I¡¦d made the choice to give up my IT career and pursue my bear hobby¡Kit is so much more enjoyable than programming and staring into lines of code each day! The IT work was hindering my creative side! LOL
So who is Benny I hear you ask?...Benny is our family pet or Walter's uncle we call him! tee hee
We now live in the heart of Melbourne with our 'son' Walter who is a King Charles Cavalier x Pug and I work from home in our apartment right in the city.
I've hogged our 2.5m dining table which is also my work desk/computer desk and have occupied that whole area for JLB. It is where I do most of my designing and sewing while watching my favourite day time TV or listening to music. It's the brightest area of the room with large ceiling to floor windows which gives me great light for taking photos. I've also hung Christmas lights along the windows to cheer me up during gloomy wet winter days! The pretty lights makes me (and the bears) happy! :D
We go for many walks around the surrounding gardens and lakes and not too far away is the beach where we take Walter swimming. Melbourne is a multi-cultural, bustling and vibrant city yet it moves at a relaxing pace. With many beautiful gardens and beaches as well as having great food, Melbourne is a wonderful place to live.
Thank you for allowing me to share a snippet of my life, and to my dear collectors, thank you for your continued support in giving my bears their loving homes.
Jenny Lee
URL : www.jennylovesbenny.com