Please Move your mouse over image to see the description

Hi there. My name is Denise Purrington & my bear company is called "Out of The Forest Bears". I live in Seattle, WA, known for our rainy weather, The Space Needle, Pike Place Market, beautiful mountains & lakes & The Home of Grunge Rock : ) Washington State is such a wonderful place to live. You won't find more beautiful scenery and there is so much to do here. Hiking in the mountains, many walking trails in the city, whale watching on Puget Sound, The waterfront in downtown Seattle just to name a few.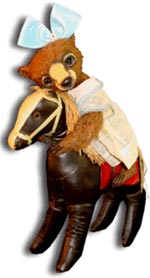 I started making bears back in the Winter of 1995 when I lived in The High Desert of Southern California & after going to my first Bear Show in Burbank, CA, I have won several awards for my Bear Designs since. I have always been interested in art, but expressed it as a hairdresser for 10 years before starting my bear business. In my earlier years, my passion was always for drawing, (this is probably one of the reasons I enjoy the designing process so much). My Mom taught me how to sew as a little girl and she always encouraged my art, (thanks Mom).
My Son Russell, my Parents Frank & Nancy and Brother Scott and family live close by. My Sister Kara lives with her family in Montana. My Son is 23 and has been doing in home health care for about 6 months and just loves it. I've been dating a great guy named Dean for almost 4 years. He has been driving a bus for Metro for almost 3 years and as far as I'm concerned, should win Driver of The Year, every year : ) I also have 2 of the cutest Yorkie's, Sadie & Monty.
I want to thank you all for visiting, (I hope you enjoyed reading about my life in Seattle) and to my collectors, I thank you for your continued support and admiration for my bears.
Big Hugs,

Denise XXXX : )

URL : http://www.denisepurringtonbears.com